Mac Audio Book Converter



| | |
| --- | --- |
| | Mac OS X 10.6 and later |

You can immediately download the very last version of Audio Book Converter from our site and start to trial it right now !




AudioBook Converter for Mac
Legal convert audiobooks from iTunes to MP3, - M4B to MP3 Converter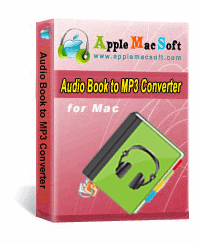 AudioBook Converter for Mac is an ideal M4B to MP3 Converter easily converts iTunes audio books (M4B file) into any format supported by iTunes, including MP3, AAC on Mac OS X. Batch convert protected audio books or unprotected audio books to MP3, AAC, AIFF, or WAV files ready for use on any computer or non-apple players such as PSP, Suface, Android, MP3 player, MP4 player, HTC phone, and etc. - without any restrictions or DRM protection.
Mac Audio Book Converter works with iTunes and virtual CD-RW technology to complete the entire burning, ripping, encoding process ALL IN ONE. It converts audio books M4B files on your iTunes quickly and with CD-quality.

You can run this software as often as you like so if you decide to purchase more audio books from the iTunes store simply run it again to convert the new books.




1.8 MB

$29.95 USD


For Mac OS X 10.3 - 10.5, please download AudioBook Converter 1.10

---
Features of Mac AudioBook Converter :
Unique DRM removal solution, it's completely legal and safe!
Automatically removes DRM protection with amazing speed and highest quality.
Very Fast Converting Speed.
Convert purchased M4B to MP3 to Play anywhere
No matter what format the audio book is, if it could be played on iTunes, AudiobookConverter will convert it to MP3 or AAC format for you.
It support batch convert DRM protected or unprotected audio books.
No Extra Hardware or CD Needed
Compatible with Mac OS X 10.6, 10.7 and 10.8 (Snow Leopard, Lion, and Mountain Lion).
Very Easy to Use


System Requirements:
Mac OS X 10.6 or later
Fully Support Mac OS X 10.8
iTunes 8 , 9, 10, iTunes 11 or later
GUI Scripting enabled in the Universal Access System Preference
You May Also Be Interested in These Software: