Graphic Converter for Mac and Windows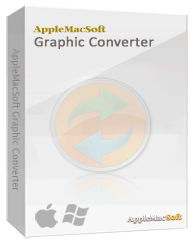 Graphic Converter is an easy to use and powerful batch image converter and photo resizer, that supports over 50 graphic formats including JPG, PNG, GIF, BMP, TIFF, SVG, TGA, ICO, PICT, PCT, PSD, DNG, Digital Photo RAW formats and many others. You can use it to convert multiple graphic files from different formats to desired format in one time. Images can be resized automatically in the same process when converting.
AppleMacSoft Graphic Converter can do the conversion work very easily in batch mode, so you can convert and/or resize all the selected source images in batch with just a few clicks. The user interface is intuitive and requires no special knowledge to operate.
AppleMacSoft Graphic Converter is an ideal tool for creating web graphic and adjusting your digital photos. It uses special convert and resize algorithms to produce high quality images.
Why not try for the fully-featured Free trial version and see if it's the right tool for you?
Download Graphic Converter for Mac (version: 1.3.1 , size: 3.1 MB)
Download Graphic Converter for Windows (version: 1.3.1 , size: 2.1 MB)
Buy Graphic Converter Now $19.95 USD
Note: AppleMacSoft Graphic Converter does not support macOS 10.15 Catalina and macOS 11 BigSur. if you are using the latest version of macOS, You can download and try FotoGo - Batch Image Converter and Editor.
Batch Graphic Conversion in 3 easy steps:
Load Your Images or Folder
Start Graphic Converter, select images you want to convert and upload them to the File List. Batch Image Converter supports 50+ image formats.
Configuration
Select a destination folder, and choose an output format.
Convert Image(s)
Click the "Convert !" button. Graphic Converter will convert all image files automatically. That's all!
Key Features of Graphic Converter (NO ad, just facts):
Batch graphics converter, Convert hundreds of different images at once.
Convert images with super high speed, support multi-core processing.
Supports various RAW image formats, including: DCR, CR2, DNG, CRW, MRW, NEF, ORF, PEF, ARW, SRF, SR2, X3F, RAF, K25, KDC, and etc.
Supports conversion for more than 50 graphic formats.
Resize multiple photos with different types in batch.
Supports load your graphics with a single drag-and-drop.
Support change the JPEG compression quality level.
Output images with highest quality.
Preview image before conversion.
Intuitive and easy-to-use.
Totally risk free. evaluate it during 30 days.
Compatible with Windows 10 and macOS 10.14 Mojave.
Graphic Converter can import images in the following formats:
.jpg, .jpeg, .png, .gif, .tga, .vst, .vda, .icb, .tpic, .ico, .jpe, .jfif, .jp2, .jpc, .j2k, .jpx, .j2c, .bmp, .vga, .rl4, .rl8, .sys, .dib, .rle, .dng, .pcx, .psd, .pdd, .pix, .cr2, .crw, .dpx, .dcx, .dcm, .dicom, .dic, .acr, .dds, .cut, .cur, .ico, .raf, .g3, .jng, .jbg, .jbig, .jb2, .k25, .kdc, .dcr, .pcd, .pct, .pict, .pic, .mrw, .mtv, .mng, .nef, .orf, .pef, .pdb, .pbm, .pnm, .ppm, .pnm, .pam, .pfm, .pgm, .arw, .srf, .sr2, .sun, .ras, .rle, .vic, .vicar, .rla, .wbmp, .wbm, .wpg, .x3f, .xcf, .xpm, .mat, .sgi and so on.
It can convert images to the following file formats::
.jpg, .jpeg, .gif, .png, .jpe, .jfif, .jp2, .jpc, .j2k, .jpx, .j2c, .bmp, .vga, .rl4, .rl8, .sys, .dib, .rle, .tga, .vst, .vda, .icb, .psd, .pdd, .tpic, .pcx, .dpx, .dcx, .g3, .jng, .jbg, .jbig, .jb2, .pcd, .pct, .pict, .pic, .cur, .ico, .mtv, .mng, .vicar, .sun, .ras, .wbmp, .pdb, .pbm, .pnm, .pam, .pfm, .pgm, .vic, .wbm, .xpm, .mat, .sgi, .svg, .svgz, and etc.
System Requirements:
Mac OS X 10.6 or newer
Fully compatible with macOS Mojave 10.14.
Works with Windows 10, 8, 8.1, 7, Vista, and XP
512 MB of RAM
Version: 1.3.1
Price: $19.95 USD

You can use Graphic Converter under Windows and Mac operating systems with the same license.
Graphic Converter ScreenShots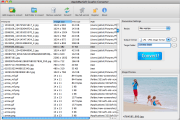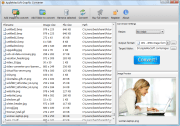 ---
Our users testimonials
If what you want is the capability to quickly reduce the size of photos, this is the product for you. Works quickly and minimum of learning required. I can now 'shrink' down image sizes and email them or post them online much more easily. Great product. -- Kenny
I have used AppleMacSoft graphic converter mac a few times to convert RAW photos to jpeg and png it worked perfectly and so easy even for a newbie like me. Your software is well worth the money. -- Casey Hillman
I have looked far and wide to find a software that will convert my 1100 images to jpeg in a batch process. It took me many months of looking for, but your converter really does make the image conversion easy. -- Tom Stark
The program is outstanding and I like using it because it allows me to convert TIFF and other formats into formats supported by the Motorola RAZR v3. I enjoy using the program because it is easy to use. -- Samuel Morehead
---
Guide & Tips

Batch Convert BMP to JPEG on Mac?

Convert KDC to JPG on Mac

Convert Sony ARW Pictures to PNG or JPEG on Mac and Windows?

Convert Canon CR2 Images to JPG on Mac and Windows?

Convert JPEG or PNG Images to ICO?