Introducing Easy MP3 Splitter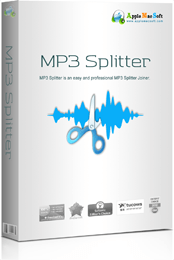 Designed to be easy and intuitive to use, Just drop your MP3 directly into application, the program will automatically split MP3, M4A or AAC file into equal sized parts using split by duration, file size, number of files or use the automatic silence detection feature, as well as associated CUE file. This easy MP3 splitter can also view the MP3 file using wave graphics and manually set the cut points visually. The new audio files will have exactly the same sound quality as the original. You can even add smooth fade-ins/outs effects to new audio files for perfect playback.
The software is very useful for split a long audiobook into separate chapters, split MP3 albums, audio tapes, iTunes music, recorded sounds, converted CD tracks and so on. If you're looking for an application to helps you for MP3 Splitting, you won't be disappointed in AppleMacSoft MP3 Splitter for Mac !
Download MP3 Splitter for Mac (Version: 3.9.1 , size: 10.3 MB)
Buy MP3 Splitter Now $14.95 $9.95 USD
Key Features of Easy MP3 Splitter for Mac (NO ad, just facts):
4 kinds of split modes: By file size, By count, By Time and by silence detection.
New fast engine for cuts large MP3, M4A and AAC into small audio files without quality loss.
Slice your Audiobooks - Automatically split an audiobook into separate chapters.
Visually split and cut audio files using waveform.
Visually define the time you want to split at by using slider bar.
Allow for splitting MP3 to equal time segments by either specified duration or number of segments.
Easy CUE splitter.
Easily cut unwanted parts from any sound file with one click.
Cut any parts from audio file without recompression.
Automatic detection of silent sections and remove silent fragments or noise from your sound recording.
Supports MP3, M4A and AAC formats.
Keeps ID3 tag including ID3v1 and ID3v2 while splitting.
Easily create great-sounding ringtones using the crop & fade features.
Add fade in and fade out effects, smoothly goes from full volume to zero volume or from zero volume to full volume.
The built-in player allows you to pre-listen the MP3 audio files.
The built-in audio player will help you define the right position for cut line.
Adjust or specify silent fragments on the waveform.
Support change the scale of the timeline.
Intuitive and simple drag&drop interface.
High performance is provided with multi-thread split technology.
the original quality is preserved - no re-encoding.
Try all features – with no time limit.
Completely compatible with the latest macOS Hign Sierra 10.13.
Lifetime updates: future updates free.
System Requirements:
Mac OS X 10.6 or later
Fully compatible with macOS 10.13 Hign Sierra.
512 MB of RAM
Version: 3.9.1
Price: $9.95 USD

You may try out AppleMacSoft MP3 Splitter un-registered for as long as you want. all features are unlocked for you to try out! Download and ready to use within minutes.
ScreenShots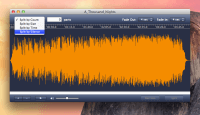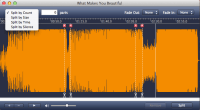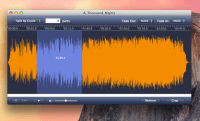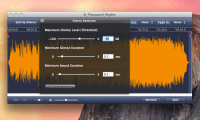 ---
Our user testimonials:
"Like the title says, this product has so much potential. It's quick, simple, and works great for big audiobooks". -- Randy Gray
"Editing out unwanted noise could not have be easier. ". -- Josef Bode
"Just wanted to tell you guys "great job" on MP3 splitter! Intuitive and very fast... I purchased it to split my audiobook files into smaller chapters for use with my iPod." -- Ken Fraser