How to Convert iTunes Movies to Chromecast on Windows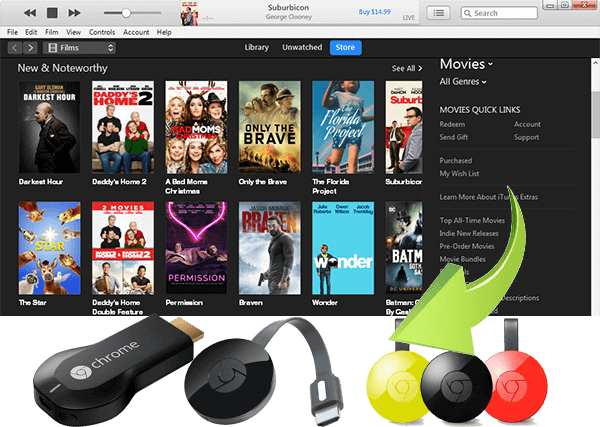 Millions of people purchase or rent movies and television shows on iTunes. Rather than enjoy these movies and shows for only a few times before they expire, most people want to save them and use Chromecast to stream iTunes moviesfrom the Chrome browser on a Windows computer. To do this, these files need to be in a standard Chromecast compatible format. The primary roadblocks preventing people from doing this is the iTunes M4V format and DRM copyright protection that comes with downloaded iTunes movies. To fully enjoy their favorites, people need to convert these iTunes movies into a DRM-free MP4 format that is portable and easily used by a wide variety of media devices and Chromecast platforms.
For anyone who wants to enjoy their favorite iTunes movies and TV shows on their HDTV's big screen with Chrome browser. now there is a simple M4V converter program just for Windows. The Easy M4V Converter for Windows application is the simplest way to convert any iTunes M4V movies to Chrome browser supported MP4 videos with 100% lossless quality. and then you can cast iTunes movies to Chromecast easily.
Below is the detailed step by step guide for stream ITunes Movies to HDTV through Chromecast.
The process for converting iTunes movies to Chromecast is fast, easy and straightforward. It's as simple as the following steps basic:
Step 1: Download Easy M4V Converter for Windows
Download the trial version of Easy M4V Converter for Windows from download button above. Note: The free trial version converts only the first five minutes of each video. The full version allows for unlimited conversions.
Step 2: Open the Converter to view the main interface. and iTunes will be automatically launched.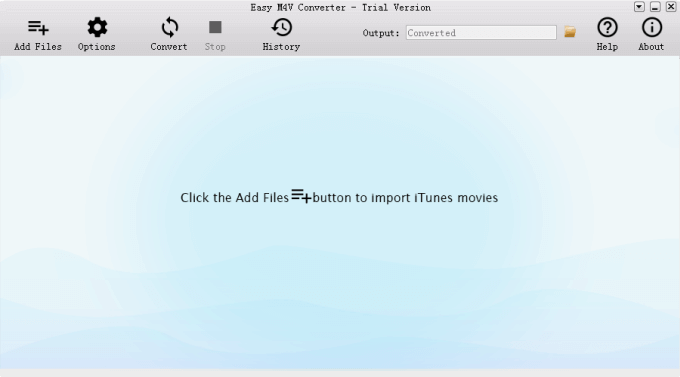 Step 3:
Add your iTunes movies
Import the desired iTunes movie(s) or television show(s) by clicking on Add Files to select any file in the iTunes playlist or library. then click "Add button" to add the iTunes movies to conversion list.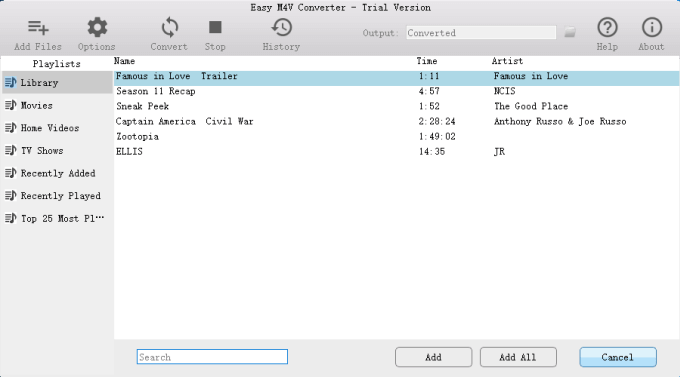 Step 4: Choose Audio Tracks & Subtitles (optional).
Selecting output subtitles and audio tracks are optional choices that can be made by clicking on the Options gear icon. If nothing is selected the application will retain all original multilingual subtitles, closed captioning and audio tracks.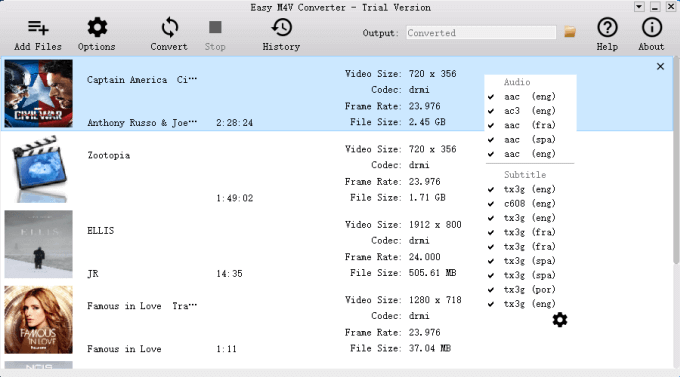 Step 5: Set output folder (optional)
Select the output destination folder by clicking on the Options gear icon. If nothing is selected the converted iTunes movies will be saved in the default folder (C:/Users/Administrator/Videos/Easy M4V Converter/Converted).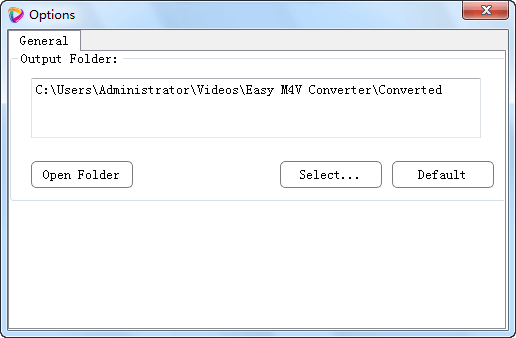 Step 6: Start Converting iTunes Movies to Chromecast compatible MP4 format.
After all selections are made, click the "Convert" button at the top of the main interface and start to converting iTunes movies to MP4 format.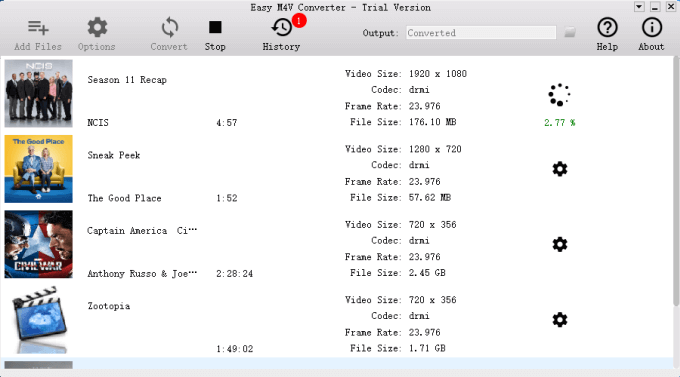 Step 7: Locate the converted files
When the conversion done, you can check the output MP4 videos in the output folder. and stream converted iTunes movies from the Chrome Browser to your HDTV via Chromecast.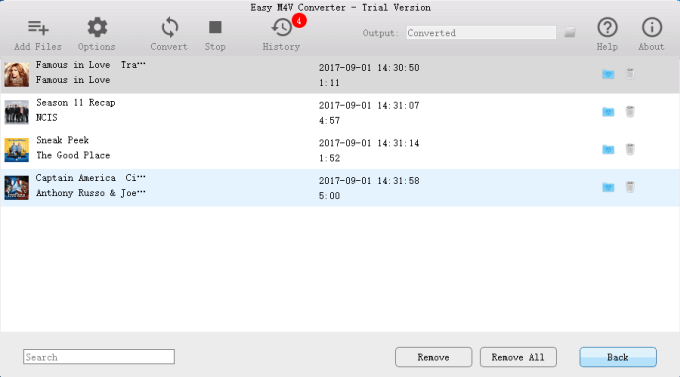 How to Stream Converted iTunes Movies to Chromecast:
Step 1: Simply Plug the Chromecast to your TV's HDMI Port. and Follow the guides to set it up.
Step 2: Go to the Chrome WebStore and download Cast extension for your Google Chrome Browser. It allows you to send content from your browser to the Chromecast.
Step 3: Add converted iTunes movies to Chrome browser for playing
Step 4: When Chrome browser starts playing your iTunes movie, click on "Cast this" button in the Chrome Browser and your iTunes movies will be mirrored to your TV.
Now you can stream iTunes movies to Chromecast for watching on your HDTV and control the playback as you like. By following the step by step guide above, you can enjoy your purchased or rented iTunes movies on your HDTV with ease.
As a professional iTunes movies to Chromecast conversion application, Easy M4V Converter for Windows works much faster and is easier to use than other conversions. It also offers high quality, lossless output in its MP4 videos and is amazingly fast. This affordable and easy-to-use converter empowers people to enjoy their favorite entertainment whenever they want.
Available for download now and supporting Windows 10 and the latest version of iTunes 12.9.0.164, the easy to use M4V converter give anyone the freedom to play iTunes movies anywhere and anytime they desire.
Related Articles:
Product Information
OS Supported: Windows 7/8/10.
Fully compatible with iTunes 12.9.0.167
Current Version: 1.4.1
Released Date: 10/19/2018
File Size: 11.5 MB
You can immediately download the latest version of iTunes Movies to Chromecast Converter and start to watching iTunes movies on your HDTV right now!
Why buy from AppleMacsoft
---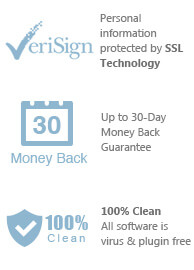 ---
Featured Products
Mac DRM Video Converter
Mac Graphic Converter
Video Converter for Mac
M4V Converter for Mac