AppleMacSoft DRM Converter


Convert DRM protected music
Convert M4P to MP3
Convert M4P to AAC
Burn iTunes music to CD
Remove DRM from iTunes
ScreenShots







AppleMacSoft DRM Converter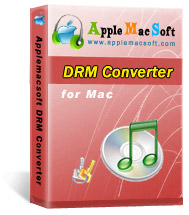 AppleMacSoft DRM Converter is the legal way to convert iTunes DRM protected M4P files to unprotected music files. It is a DRM copy-protected audio and music converter designed for burning DRM protected music to a special virtual CD-RW drive where you can easily get unprotected MP3, AAC, Apple Lossless, AIFF, WAV files ready for use on any player.
AppleMacSoft DRM Converter uses a CD-RW and iTunes itself to convert all of your DRM music files to standard format files (MP3, AAC, Apple Lossless, AIFF, WAV) that you can use with iPod player.
With AppleMacSoft DRM Converter you can create MP3, AAC, Apple Lossles, AIFF, or WAV files from your DRM files.




Download Trial 7.6 MB Buy Now $39.95 USD



---

If you want to Convert DRM Video file. please go to DRM Video Converter for Mac.


AppleMacSoft DRM Converter for Mac uses the iTunes importers and selects the importer that you want to use without changing any of the import settings. To see or change, for example, the MP3 Import settings do this before running DRM Converter:
Launch iTunes
Open the Preferences
Select Advanced
Select Importing
Select Import Using: MP3
Choose your prefered import settings
AppleMacSoft DRM Converter will use your iTunes import settings, it does not change them.

Since AppleMacSoft DRM Converter supports any iTunes importer you need to make sure the settings for the importer that you want to use are correct before running DRM Converter.


DRM Converter for Mac does the rest for you. When the operation is complete you will have a new playlist in iTunes that contains the imported files.


Even if you buy more iTunes DRM protected files simply run DRM Converter to convert those music files. you can enjoy all your protected musics on iPod, any other MP3 player, CD player, mobile phone or PC - without any restrictions or DRM protection.



System Requirements:
Mac OS X 10.6 or later, (For Mac OS X 10.3 - 10.5, please download DRM Converter 3.6.0 )
iTunes 9, 10, 11 and Higher
GUI Scripting enabled in the Universal Access System Preference
A CD-RW disk and CD Burner.