How to Convert Sony ARW Pictures to PNG or JPEG on Mac and Windows?
What is Sony ARW?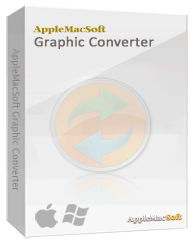 Have you got an ARW file on your computer and could not open it? Before finding a way to open it, the first thing you need to know is what is ARW file on earth. A file with the ARW file extension is a RAW Image file taken by Sony DSLR camera. The photos with this format always have great quality. But the problem is that you have to use special image software to open and view ARW images. Besides, ARW images are not supported by most of websites and portable devices. So the most convenient and reliable way for solving this problem is to convert ARW images to another format.
PNG is an ideal format for you to convert into. PNG stands for Portable Network Graphics. It's a loss-less bitmap image format that is popular on the World Wide Web and can be displayed on many portable devices. So in order to help people convert Sony ARW images to PNG images, AppleMacSoft Graphic Converter is released. It has Windows and Mac version to meet different requirements of users and gives you incredible experience of converting Sony ARW files to PNG really quickly. The trial version may be downloaded from the following link:
Download Graphic Converter for Mac
(version: 1.3.1 , size: 3.1 MB)
Download Graphic Converter for Windows
(version: 1.3.1 , size: 2.1 MB)
Buy Graphic Converter Now
$19.95 USD
Note: AppleMacSoft Graphic Converter does not support macOS 10.15 Catalina and macOS 11 BigSur. if you are using the latest version of macOS, You can download and try FotoGo - Batch Image Converter and Editor.
A simple guide to converting Sony ARW Pictures into PNG or JPEG format on Mac :
Firstly, download and launch Mac Graphic Converter. you will see the main interface once you launch the program. Then you need to add the ARW images to the program. There are two options you can find to add images. "add images to convert" is for uploading single or several images at the same time; "add folder to convert" is for adding one whole folder.


Tips: You can see the preview of selected image in the lower right corner.



In the right side, you have three options for output settings. "Resize" can let you set the size of output images. And here you have to set PNG or JPEG as the output format. Then the last option "target folder" is for choosing a folder for saving output PNG or JPEG pictures.




When all options are set correctly, just click the "convert" button. Then the program will start to convert the ARW pictures to PNG on your Mac. The whole conversion process will be really fast, generally 100 pictures only take 3 seconds. After the conversion, you will see the converted pictures in your selected folder. Now you can upload these PNG images to website or view them on any portable device freely.


If you still have any question, just download trial version of the AppleMacSoft Graphic Converter for Mac and find out how it works by yourself!
System Requirements:
Mac OS X 10.4 or later.
Fully compatible with macOS Sierra 10.12.
Works on Windows Vista, XP, Windows 7, 8 and Windows 10
512 MB of RAM.
Version: 1.3.1
Price: $19.95 USD

You can use Graphic Converter under Windows and Mac operating systems with the same license.
ScreenShots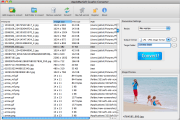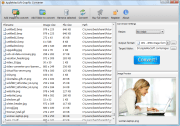 ---
Our users testimonials
I have looked far and wide to find a software that will convert my 1200 images to jpeg in a batch process. It took me many months of looking for, but your software really does make the image conversion easy. -- Tom Stark
If what you want is the capability to quickly reduce the size of photos, this is the product for you. Works quickly and minimum of learning required. I can now 'shrink' down image sizes and email them or post them online much more easily. Great product. -- Kenny
The program is outstanding and I like using it because it allows me to convert TIFF and other formats into formats supported by the Motorola RAZR v3. I enjoy using the program because it is easy to use. -- Samuel Morehead
I have used graphic converter mac a few times to convert photos from PNG to jpeg and it worked perfectly and so easy even for a newbie like me. Your product is well worth the money. -- Casey Hillman
---
Guide & Tips

Batch Convert BMP to JPEG on Mac?

Convert Sony ARW Pictures to PNG or JPEG on Mac and Windows?

Convert MRW to JPG on Mac and Windows?

Convert KDC to JPG on Mac?

Convert Canon CR2 Images to JPG on Mac and Windows?

Convert JPEG or PNG Images to ICO?

How to Convert CRW to JPG on Mac and Windows?

How to Convert TIFF to JPG or PNG on Mac?

How to Convert NEF Images to JPG?

How to Convert TGA to JPEG or PNG?