How to Batch Convert BMP to JPEG on Mac?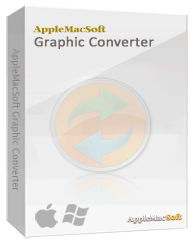 What is BMP Format ?
BMP, also known as Bitmap, is the image format created by Microsoft for the Windows platform. It might be the first type of digital image format and it stores uncompressed image data which results in large file sizes for the bitmap images. This format is ideal for icons and small images.
What is JPEG Format ?
JPEG, also known as JPG, is the most used file format for storing digital pictures. This high quality image and huge compression allows for big resolutions but small file sizes. It is the most common image format you can see everywhere.
Why Do you Need to Convert BMP Images to JPEG Format ?
You may find that some website only accept JPEG images for uploading. Or you need JPEG images with much more smaller sizes for storing. Besides, BMP images may not open on some portable devices.
The Easy Way to Batch Convert BMP Images to JPEG on Mac
AppleMacSoft Graphic Converter
is the image converter and photo resizer for Mac OS X that enables you to batch convert images from one format to other formats. Convert image from BMP to JPEG becomes really easy with few clicks. It only has one clear and user-friendly interface to guide users to convert images by themselves.
Download Graphic Converter for Mac
(version: 1.3.1 , size: 3.1 MB)
Download Graphic Converter for Windows
(version: 1.3.1 , size: 2.1 MB)
Buy Graphic Converter Now
$19.95 USD
Note: AppleMacSoft Graphic Converter does not support macOS 10.15 Catalina and macOS 11 BigSur. if you are using the latest version of macOS, You can download and try FotoGo - Batch Image Converter and Editor.
Below is the step by step guide on how to Batch Convert BMP to JPEG on a Macintosh system:
Before getting started, you must download AppleMacSoft Mac Graphic Converter and then install it on your computer.
First, Load the BMP files you want to convert

Use the Batch mode and convert several files or a whole folder to a desired format with one button click! You can either choose "Add images to Convert" to import BMP files, or simply click "Add folder to convert" to convert all BMP images in a folder.


Tips: The image can be previewed in the lower right corner when you select it in the file list.



Next, Set JPEG as Output Format.

In the right side, there are three settings for output parameters. Here you need to select JPEG as the output format from the Format dropdown list, and you can also set the quality of JPEG images and resize the output JPEG images. Then, you need to select the location where you want the new jpeg images saved to.




Then, Converting BMP to JPEG on Your Mac

After all is done, Please click the "Convert" button and the program will batch convert your BMP images within several seconds. This conversion process is extremely fast. You can see the converted JPEG images in your selected folder and then upload or transfer them to anywhere without problem.
Now just download the trial version of AppleMacSoft Graphic Converter for Mac to experience its function by yourself!
Download free demo version now
Related Articles:
Version: 1.3.1
Price: $19.95 USD

You can use Graphic Converter under Windows and Mac operating systems with the same license.
ScreenShots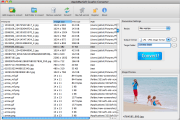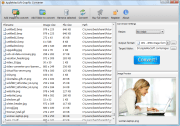 ---
Our users testimonials
I have looked far and wide to find a software that will convert my 1200 images to jpeg in a batch process. It took me many months of looking for, but your software really does make the image conversion easy. -- Tom Stark
If what you want is the capability to quickly reduce the size of photos, this is the product for you. Works quickly and minimum of learning required. I can now 'shrink' down image sizes and email them or post them online much more easily. Great product. -- Kenny
The program is outstanding and I like using it because it allows me to convert TIFF and other formats into formats supported by the Motorola RAZR v3. I enjoy using the program because it is easy to use. -- Samuel Morehead
I have used graphic converter mac a few times to convert photos from PNG to jpeg and it worked perfectly and so easy even for a newbie like me. Your product is well worth the money. -- Casey Hillman